Twinkle twinkle little stars, Johnny Johnny, yes papa! Feels nostalgic, isn't it? Children are easily drawn to songs and rhymes that have catchy beats. Preschool nursery rhymes allow children to explore languages, alphabet and numerals in a fun way, which stays in their memory forever. The learning process automatically becomes more appealing for a toddler as they enjoy and sway to the beats of any rhyme or a song.
Toddlers may also pick up speaking and learning skills with the help of nursery rhymes as they listen to the individual sounds that form a word (1). As they grow older, it gives them a stronger foundation to learn how to read and write and develops creative skills. Here is a curation of some of the best nursery rhymes for toddlers that are not just fun but also engaging.
15 Nursery Rhymes for Toddlers
Here are some popular nursery rhymes to teach your toddler (2). To get your child super excited, you may get a few props too.
1. Wee Willie Winkie: It is a Scottish nursery rhyme personifying sleep. The merry yet subtle tone of the rhyme makes it a good lullaby too.
Wee Willie Winkie runs through the town,
Upstairs, downstairs in his nightgown.
Tapping at the window, crying through the lock,
Are the children in their beds? For now it's eight O'clock.
Watch it here: www.youtube.com
2. Old King Cole: This talks about England's King who enjoyed his life. This humorous poem would get your little one grooving to the beat.
Old King Cole was a merry old soul,
And a merry old soul was he.
He called for his pipe, and he called for his bowl,
And he called for his fiddlers three.
Watch it here: www.youtube.com
3. It's raining, it's pouring: The rhyme originates from England and talks about the time when children could not go out to play due to heavy rains. It is a fun-filled rhyme describing what the old man does when it rains.
It's raining; it's pouring,
The old man is snoring.
He went to bed and bumped his head,
And he won't get up in the morning.
Watch it here: www.youtube.com
4. Hey Diddle Diddle: It refers to a series of tragic events mixed with some surprises written and presented in a funny style.
Hey Diddle diddle, the cat and the fiddle,
The cow jumped over the moon,
The dog laughed to see such fun,
And the dish ran away with the spoon.
Watch it here: www.youtube.com
5. Higglety Pigglety Pop: This rhyme has a lot of activity and is fun for the toddlers. It may crack them bursting into laughter while they recite it.
Higglety pigglety pop.
The dog has eaten the mop.
The Pig's in a hurry,
The cat's in a flurry,
Higglety pigglety pop!
Watch it here: www.youtube.com
6. Round and Round the Garden: This interesting rhyme says "tickle you under there" in the end which means you tickle the toddler when you reach this line. It is a fun-filled poem that may get them laughing uncontrollably.
Round and round the garden,
Went the teddy bear,
One step, two steps,
Tickle you under there.
Watch it here: www.youtube.com
7. These are Baby's Fingers: This rhyme educates the toddler about their body parts. It is short and sweet, making it easy to remember.
These are baby's fingers,
These are baby's toes,
Here is baby's belly button,
Round and round it goes.
Watch it here: www.youtube.com
8. There Was a Little Mouse: A mysterious and funny rhyme where the aim is to catch hold of the mouse. This cute poem is easy to remember and fun to recite.
There was a little mouse,
Looking for his house,
Not here,
Not there,
But here, here, here!
Watch it here: www.youtube.com
9. With Our Hands: This rhyme may turn out to be one of your toddler's favorite as it involves a lot of play. The movement and crispness also make it easy to remember.
With our hands we clap, clap, clap.
With our feet we stamp, stamp, stamp.
We jump three times as high as can be.
Then we say, "Hey, look at me".
10. I Put My Arms Up High: This rhyme is playful and can be performed on depicting each line. Sing along with your child and make memoires of a lifetime.
I put my arms up high,
I put my arms down low.
I put them straight out to the side,
And then I let them go.
11. Ring Around the Rosie: This is one of the most popular nursery rhymes for a long time. Even if your toddler is drowsy, performing this rhyme may brighten them up.
Ring around the rosie,
Pocket full of posies,
Ashes, ashes, we all fall down!
Watch it here: www.youtube.com
12. Twinkle Twinkle Little Star: This old-time classic and one of the most favourite rhymes for children is melodious and pleasant.
Twinkle, twinkle little star,
How I wonder what you are,
Up above the world so high,
Like a diamond in the sky.
Twinkle, twinkle little star,
How I wonder what you are.
Watch it here: www.youtube.com
13. Jack Be Nimble: As short as it could be, this rhyme is probably the easiest one to remember because of the catchy words and short lines.
Jack be nimble, Jack be quick,
Jack jump over the candlestick!
Watch it here: www.youtube.com
14. Humpty Dumpty: The sing-song tone of this humor-filled rhyme is an absolute favorite for many toddlers.
Humpty Dumpty sat on a wall.
Humpty Dumpty had a great fall.
All the King's horses and all the King's men,
Couldn't put Humpty together again.
Watch it here: www.youtube.com
15. Little Bo Peep: The rhyme talks about little Bo finding her lost sheep. It is an adorable little story for your toddler to learn as a rhyme.
Little Bo Peep has lost her sheep
And doesn't know where to find them
Leave them alone and they'll come home
Wagging their tails behind them.
Watch it here: www.youtube.com
Benefits Of Nursery Rhymes For Toddlers
Nursery rhymes have repetitive lines or words, which make them easy to remember and enjoy reciting individually. While these help in building vocabulary and communication skills, here are some more benefits of nursery rhymes for toddlers (3):
Provide multiple opportunities for the children to learn.
Promote key developmental skills.
Boost the vocabulary of children and lead to communication and language development.
By acting out the rhymes, children may develop physically too.
A better understanding of numerals comes from rhymes, such as "Five Currant Buns".
Give children a better understanding of the world as they make it more relatable for them.
When children engage themselves in performing a rhyme, they enjoy acting it out to express their creative side.
How To Help Your Toddler Learn The Nursery Rhymes?
Nursery rhymes are most typically sung to make them interesting and catchy for the toddler. Here are some tips to help your child learn nursery rhymes that are short and quick and can fit into the daily routine of your toddler (3):
Create flashcards to make learning interesting and fun.
Show pictures relevant to the nursery rhymes to your toddler.
Choose a simple and short rhyme to begin the learning process.
Recite the rhymes along with your toddler (4).
Respond to your child's curiosity and questions about rhymes.
Appreciate them when they show further interest in a rhyme.
Try to make the learning process as fun as possible.
Nursery rhymes are the easiest and most effective way to introduce new words to your toddler. They also help in stimulating a child's imagination. Don't get surprised if your child feels inspired and enthusiastic about writing a poem, unleashing their inner poet.
References:
MomJunction's articles are written after analyzing the research works of expert authors and institutions. Our references consist of resources established by authorities in their respective fields. You can learn more about the authenticity of the information we present in our
editorial policy
.
The following two tabs change content below.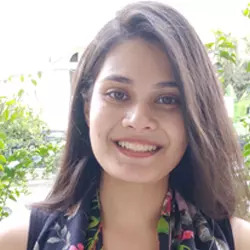 Manjari Srivastava
Manjari Srivastava is a graduate of psychology. She also holds certificates in Basics In Clinical Psychology and Identifying Early Signs Of Psychosis In Adolescents And Young Adults.  Previously, she volunteered with an NGO specializing in positive psychology, where she took up individual counseling sessions for students. She also taught English to underprivileged children and helped them with their studies. At MomJunction,…
more