The beauty and soulfulness of classical music is unparalleled. Be it Mozart, Bach, or Beethoven, listening to classical music can evoke feelings of tranquillity, and unbridled joy.
Introducing your babies to classical music may offer several benefits. Apart from uplifting the mood of your child, it can also positively influence their overall well-being. You would be intrigued to know that many famous nursery rhymes, such as "Mary had a little lamb" and "London Bridge," are inspired by classical melodies.
In this post, we have specially curated a list of the best classical music for babies by renowned composers.
Why Is Classical Music Good For Babies?
Classical music doesn't just sound heavenly to the ears; it also offers myriad benefits for babies. Keep reading to understand the impact of classical music on your little ones.
1. Helps in language acquisition
Exposure to music early on activates many areas of a baby's brain (1). These areas also include language acquisition and reading skills (1). Research shows that listening to music enhances a child's ability to process music and speech (2). Language has underlying rhythmic patterns that help listeners differentiate between different speech sounds (2). Being exposed to the patterns in music can enhance the child's ability to identify these sounds (2). 
2. Helps the baby sleep
Playing gentle classical tunes, such as lullabies, creates tranquillity, building an ideal setting for (1). The soothing melody and the repetitive pattern can lower the heart rate and even out the breathing, helping the child fall asleep (1).
3. Has positive effects on the health of the child
Generally, classical songs have gentle melodies. The tune is soft and can have a calming effect on babies (1). If your baby is being fussy, playing a classical song can soothe them and evoke feelings of happiness (1). Stress can lead to emotional problems as children grow up (3). When a baby is stress-free and happy, it contributes positively to their overall health.
Mozart Effect: Can Classical Music Make Your Babies Smarter?
Mozart effect came into being when a 1993 study amongst college students showed improvement in spatial reasoning skills after listening to Mozart sonata for 10 minutes (4). However, the "Mozart effect" was temporary and lasted only for about 10-15 minutes (4).
The publicized findings of this study caused a big wave in the US. Many households began to play classical music to their children, and Georgia state went ahead and started giving free classical music CDs to new-born babies. However subsequent studies showed mixed findings; some could not replicate the result, while others supported the theory (4).
A study done in pre-schoolers showed enhanced efficiency in cutting and paper folding tasks by exposure to classical music, but this improvement was also seen when children listened to music and stories (5). This indicated that the children performed better not due to classical music but because they enjoyed what they were listening to (5).
So, while classical music is beneficial for the baby, there is currently no evidence that indicates an improvement in general intelligence (4).
12 Best Classical Music For Babies
Whether you wish to soothe the baby, entertain them, or help them sleep, there are classical music pieces in this list for every scenario.
1. Johann Sebastian Bach – Sheep May Safely Graze
This melodious piece has a lullaby-like quality and gives a feeling of peace and tranquillity. With its beautiful harmonies, this pastoral music can soothe your little one. You can play it to lull them to sleep or calm them down.
Listen to it here: www.youtube.com
2.  Brahms – Wiegenlied
This poignant lullaby by Brahms is a well-known piece. The comforting cadence makes it a perfect song to put a cranky baby to sleep. So, the next time your little one gives you a tough time before their bedtime, just play this and see how the melody does its magic.
Listen to it here: www.youtube.com
3. William Tell Overture, Gioachino Rossini
Classical music is not just useful for putting babies to sleep, it can also cheer them up. The opera is fast paced with a catchy tune and will get your little one moving and dancing in joy.
Listen to it here: www.youtube.com
4. Wolfgang Amadeus Mozart – Piano Sonata no. 11 in A
This soulful sonata has three movements. Alla Turca is the third movement and is one of the most famous piano works of the great Mozart. The gentle rise and fall of the tune can have an effect of a lullaby. It is a perfect piece to play prior to your baby's bedtime.
Listen to it here: www.youtube.com
5. Claude Debussy: Clair De Lune
Clair De Lune is French for moonlight and is a famous classic tune. This piano piece has been often used to depict romance in many films and television shows. Play it when you want to create a calm atmosphere and relax your little one.
Listen to it here: www.youtube.com
6. Felix Mendelssohn – Calm Sea and Prosperous Voyage
This overture is based on two poems by Goethe Meeresstille (Calm Sea) and Glückliche Fahrt (Prosperous Voyage). The soft music of the violins and solo bird-like flute make the opening of Calm Sea very relaxing. It may help you calm your baby. The second part of the piece has a faster tempo and can uplift your child's mood.
Listen to it here: www.youtube.com
7. Ralph Vaughan Williams – The Lark Ascending
This breathtaking piece is inspired by a George Meredith poem. The fluttering and rising of the violin tune perfectly emulate the lark from the poem soaring skyward. Children enjoy bird sounds, so this gentle classical piece would bring them great joy.
Listen to it here: www.youtube.com
8. Air from Orchestral Suite no. 3 (Air on the G String)
This is another beautiful tune by Bach. The string melody is gentle and will be relaxing for your baby. This memorable piece can be the perfect introduction to Bach for your little one.
Listen to it here: www.youtube.com
9. Serenade No. 13 for Strings in G Major, K. 525
Introducing Mozart to your child would be incomplete without this iconic classical composition. Named as Eine kleine Nachtmusik, German for "A Little Night Music, this serenade is one of the most popular pieces by Mozart. The lively music is perfect to cheer up your child when they get cranky.
Listen to it here: www.youtube.com
10. Ave Maria
This soul-touching composition was born when French composer Charles Gounod overlaid his melody over Bach's Prelude No. 1 in C major from the Well-Tempered Klavier. Simple music is easier for babies to follow and this piece fits the criteria well. The simplicity and serenity of the piece makes it a great choice for little ones.
Listen to it here: www.youtube.com
11. Mozart- 12 Variation "Ah, vous dirai-je, Maman" KV. 265
This piece composed by Mozart is a variation of a French folk song, "Ah, vous dirai-je, Maman." Popular nursery rhymes such as Twinkle Twinkle Little Star, Ba Ba Blacksheep, and the "Alphabet song" have used this music. Your baby would love this memorable and easy-to-understand melody.
Listen to it here: www.youtube.com
12. Victor Herbert – March Of The Toys
The lively mood of the song and the foot-tapping beats are perfect to chase away your little ones' blues. Your baby may enjoy the unique marching beats of the composition. March along with the beats for added fun and laughter.
Listen to it here: www.youtube.com
While listening to classical music doesn't necessarily make babies smarter, it can help in soothing them. And it could also elevate their mood depending on the tone of the selected composition. Introducing classical music early on might also help your little one to develop a liking towards it. Please bear in mind that exposure to music is good for infants but looking at screens is harmful. Play the classical melody on the music player and keep your child away from screens. A regular classical music play session can be a perfect excuse to spend some quality time with your little one.
References:
MomJunction's articles are written after analyzing the research works of expert authors and institutions. Our references consist of resources established by authorities in their respective fields. You can learn more about the authenticity of the information we present in our
editorial policy
.
The following two tabs change content below.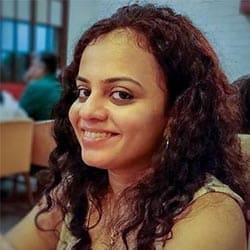 Shivali Karande
Shivali holds a bachelor's degree in pharmacy and a master's in management. After working for nearly five years in the market research sector, she discovered her passion for writing and started freelancing. Her knowledge about medicines and biology, coupled with her experience in research, helps her write well-researched, informative, and evidence-based articles. For MomJunction, she writes articles on health and wellness.When she is not writing, you will find her curled up with a good book, working out, or binge-watching tv-shows.